Strooan Triple Zoom
5/9/2016 | Comments: 2 |
Categories:
History
I started Esoteric Tackle back in 2010 making strike indicators for Czech nymphing. I still make them. I came across Tenkara and thought it sounded like a fabulous method for fishing our local rivers. I looked into it an came across a supplier of Tenkara rods and thought, "Well, it's something else to sell in my shop." So I ordered up a sample and before long I was the first UK Manufacturer and seller of Tenkara rods. The ESO-Tenkara 360cm 6:4 is still a huge favourite of mine and others but now discontinued.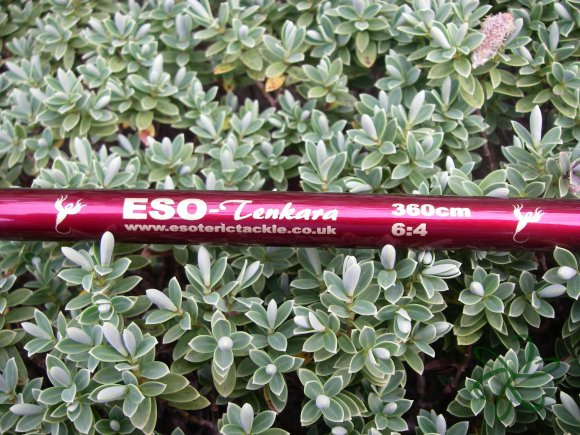 Esoteric Tackle has remained small working away to produce better and better rods. Sourcing the best Tenkara lines and equipment and bring it to the UK. The Strooan is the very latest rod and has all of the experience I've gained designing rods wrapped up in a package, I feel, is a worthy successor to the ESO-Tenkara 360cm 6:4.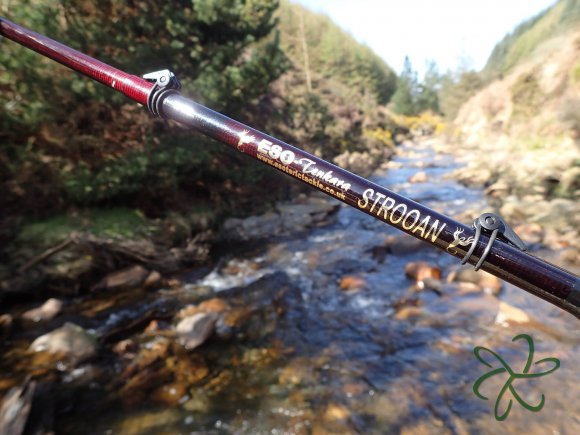 What is Different?
Carbon fibre technology has moved on and it has been possible to produce a slimmer, yet still very strong blank. The slimmer the blank the less air resistance when casting. The less air resistance the lighter the rod feels and the more accurately you can direct the rod. The ESO-Tenkara Strooan is the slimmest blank Esoteric Tackle has produced to date.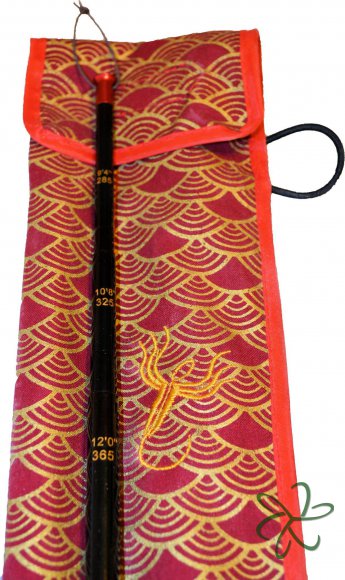 Multiple casting lengths are possible with the Strooan. Although a single length can be very finely tuned for a specific length and weight of line, from experience, our rivers are not open enough to accommodate one length. Either you had to carry multiple rods or you compromised with the longest rod you can manage in the worst place. This meant the advantages of a long rod were lost in the open stretches. The triple zoom, with appreciable length differences, means there is no need to compromise or change rods.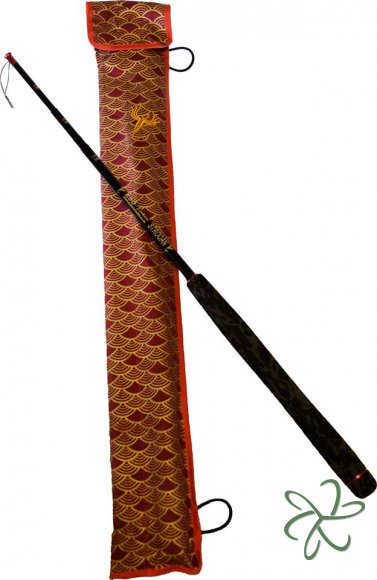 Moving away from cork a a handle material has been a hard and controversial decision. It is very hard to get top quality cork today without the price being extortionate. The EVA foam is as firm as cork, warmer in winter and precisely controlled for weight and balance. Every handle is exactly the same.

The swivel at the tip is something that you either like or don't care about. If your casting is a steady backwards and forwards action with the line running on one plain it won't make any difference. If you're a bit of wizard with a wand, throwing extra loops to cope with difficult conditions or to angle the line under foliage, then the tip swivel makes a bit more sense. Those extra twists you put in the line could come back to bite you, in terms of accuracy or a broken tip, if the swivel isn't there to help remove them.
The action and flex of the Strooan is very different. Early ESO-Tenkara rods had a very flexible tip, which was great for accuracy and protecting fine tippets, but hopeless as soon as you added any weight to the fly. Talking with many UK and European Tenkara anglers, the vast majority do like to use the occasional weighted pattern and everyone complained that the cast became more of a lob. The elegance of the Tenkara set up was compromised.
The Strooan tip is not as flexible, but still plenty flexible enough to protect light tippets. Being stronger it has the power to put the cast back into weighted patterns. I say weighted, a 2.5mm tungsten bead, is about optimum before you start to creep towards the "lob" cast again.
Further back the blank is more flexible to compensate for the less flexible tip. The transition is smooth. The result is easy casting or every line from light #2 with micro dries to #4.5 lines and 2.5mm tungsten jig nymphs.
That's not Tenkara!
There is nothing to stop you using Sakasa Kebari size 12 flies on a #3 line. The rod will handle the flies and their manipulations with aplomb. What I've tried to do is accommodate people new to Tenkara with an introduction to the tackle using methods they already know and trust. In time, if they desire, the Strooan will stay with them as they explore the Japanese style more rigorously.
Personal Choice
It was a surprise, a good one, to realise that the Strooan has become my "Go To" rod. Previously I'd always pick up one of the original 360cm 6:4's (the last prototype before production) as that had been my "Go To" for 90% of all my local fishing. Now I'm carrying the Strooan and it's little brother when I'm fishing locally. Everything else feels too heavy.
I'm really proud of what I've achieved with the ESO-Tenkara Strooan. The positive comments I'm getting from those that have one are very encouraging indeed. I'm not resting on my laurels yet! I have new prototypes to test and evaluate. Extending the range of the ESO-Tenkara range of rods is not over yet.
The Future
Esoteric Tackle is not ready to expand. Keeping it small makes it easier to develop better products, quicker. ESO-Tenkara rods are not copies of other rods or de-tuned more expensive rods. They are not sourced from Alibaba and re-branded. They are designed with specific requirements firmly in the cross hairs. Esoteric means "knowledge known only to a few". By staying small Esoteric Tackle and ESO-Tenkara rods will remain the preserve of people "not quite fishing in the mainstream." People who appreciate the effort and value of a small companies focus on the detail and quality of their products.
Rating 5.0 (1 vote)
Subscribe to comments