Azayaka is this the future?
9/18/2015 | Comments: 1 |
Categories:
It's been no secret that the original Sunline Shooter FC SNIPER BMS was one of my favourite lines. Not too bright that it scared fish when it went over their heads but with it's regular colour changes you had indicators all the way up the line. Unfortunately it's being discontinued. All is not lost! The replacement is the Sunline Shooter FC SNIPER BMS AZAYAKA and it's amazing.
It has the colour changes but now it has new colours in there as well as the pink and orange. Added to the palette is a green/yellow and a short dark grey section that in some lights looks black. The colours run from tip to fly, pink (15cm), yellow (15cm), orange (15cm) and then grey (5cm) before it then has a clear (65cm) section. Getting pictures on the water is awkward.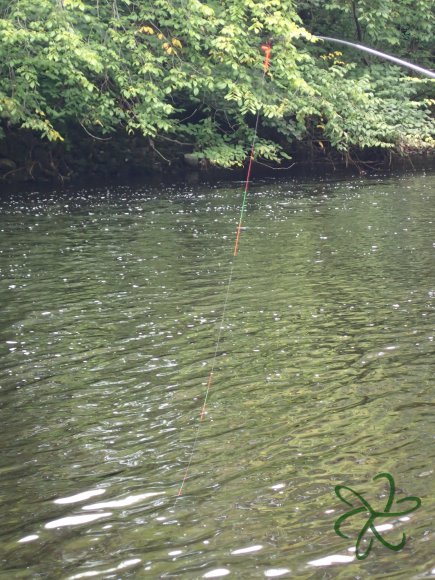 There are more pictures in the gallery which are much better at full size to see the line. In the picture above you can clearly see that these sections glow. In the very deep runs I allowed the line to sink even deeper and used the next coloured section as an indicator. Putting a small ring in the black section prevented any shine from the knot. Placing a tippet ring a few centimetres into the clear shone like fallen star on the water. To the point I even had fish attempting to take the tippet ring! The gray section does seem to stop the light transmitting down the fluorocarbon and shining out of the end in a similar way to a fibre optic.
Casting the line is slightly softer than Sunline Buttobi, I think, but it certainly isn't too supple to cause a problem. I've got a grayling competition later in the year when I can't use my Tenkara rod due to length restrictions but I'm going to be loading this line up as my leader. No need for an indicator section.
I am so pleased with how this line preformed that I will be setting it up on all my rods and carrying various weights of each for optimum casting in light airs to stronger breezes. This is a line that has to be seen to really appreciate its benefits.
Not yet rated
Subscribe to comments